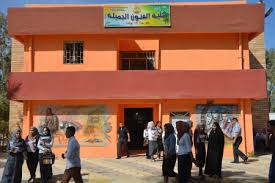 Admission Requirements
The applicants who meet the following requirements will be admitted to the College Of Fine Arts -Diyala
A minimum grade of 60% in the General Secondary School Certificate (Tawjihia) or its equivalent. No more than two years shall have passed since the applicant obtained his/her high General Secondary School Certificate. The Following General Secondary School specializations are accepted: ( Science, Commerce, Art Institutes ,Institutes of Musical Arts ,and Institutes Applied Arts, ).
The applicant shall attend an aptitude test and a personal interview.
The applicant shall be medically fit for the academic program he/she wishes to enroll in.

Note
Several programs require the applicant to attend and pass additional interviews and/or written tests.